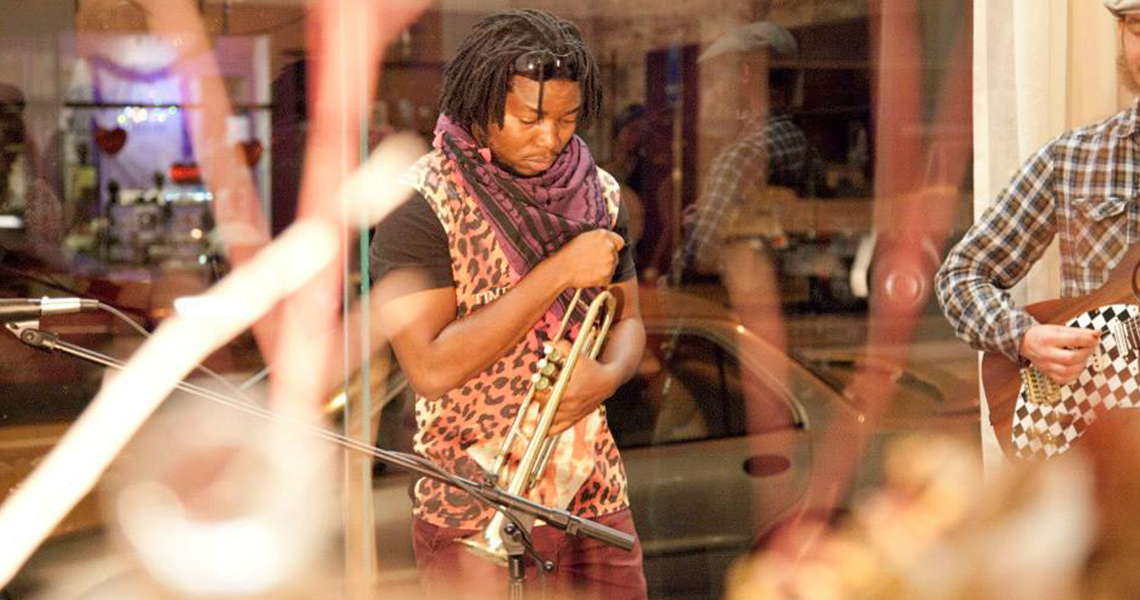 Olugbade Okunade, aka GP Saxy, grew up in the afrobeat capital of the world, Lagos, Nigeria. Olugbade started performing trumpet at 15 years old. By 2000, he joined Fela Anikulapo Kuti's world renowned afrobeat orchestra, Egypt 80. For the next 14 years he toured the world performing at festivals and concerts on the world stage; WOMAD (UK), Bluesfest (AUS), Cochella (US), TV show – Later with Jools Holland (UK), Montreal Jazz Festival (CAN), New Orleans Jazz Festival (US), Fuji Rock Festival (JPN) and many more.
Now based in Melbourne, Australia, GP Saxy has ventured into his own project, Alárìíyá, meaning 'party people' in Nigeria's Yòrùbá language. He is passionate about keeping true to the form of Nigerian afrobeat, while blending it with high-life and jazz, to create a unique sound. GP Saxy brings a wealth of knowledge about Nigerian music and culture to Australia; and Melbourne, being the music capital, has soaked it up.
This multi-instrumentalist, composer and producer draws upon afrobeat, funk, juju, fuji, highlife and gospel to bring a unique and innovative sound. GP Saxy captivates the audience wherever he plays. When he's not performing with Alárìíyá, you can catch him with Public Opinion Afro Orchestra, Cumbia Cosmonauts, Papa Chango, Lamine Sonko & The African Intelligence and The Upstanding Members.
Olugbade Okunade facilitates Nigerian cultural workshops for schools and private groups. In 2016, he completed the Emerging Cultural Leader course at Footscray Community Arts Centre, Melbourne.
Upcoming Events – GP Saxy
Previous performances – GP Saxy – Australia
• Yirramboi Arts Festival 2017
• WOMADelaide 2017
• Come Together Festival 2017
• Queen Victoria Night Market 2017
• Beasts of No Nation: A Tribute to Fela Kuti – Felabration 2016
• Brunswick Music Festival 2016
• Mallard Movies, PBS FM Presents-Finding Fela 2015
• Melbourne Festival 2015
• White Night Festival 2015
• Viva Festival 2015
• Globe to Globe Festival 2015
• Moomba Festival 2015
• Next Stop Melbourne 2015
• Rhythms of Africa, Werribee Zoo 2015, 2016, 2017
• New Years Eve, Federation Square, Melbourne 2014
• Boite World Music Cafe 2014
• Emerge Festival 2014
Previous performances with Egypt 80 – Worldwide
• Bluesfest, Byron Bay, Australia, 2014
• Festival Mawazine, Rabat, Morocco, 2013
• Jazz A Liege, Belgium, 2013
• North Sea Jazz Festival, Netherlands, 2012
• New Orleans Jazz Festival, USA, 2012
• Jazz A La Villette, France, 2012
• Cochella, USA, 2012
• Festival International de Louisiane, USA, 2012
• Australasian World Music Expo, Australia, 2012
• Fuji Rock Festival, Japan, 2009 & 2012
• Later with Jools Holland, UK, 2011
• Grassroots Festival, New York, 2011
• Celebrate Brooklyn, New York, 2011
• WOMADelaide, Australia, 2009
• WOMAD, New Zealand, 2009
• Glastonbury, UK, 2009
• Nobel Peace Prize concert, Norway, 2008
• Ottawa Bluesfest, Canada, 2008
• The Montreal Jazz Festival, Canada, 2007

GP Saxy features on three of Seun Kuti & Egypt 80's albums


• Many Things, 2008
• From Africa With Fury, 2011
• A Long Way to the Beginning, 2014